Here Fred Camper's art in reproduced Web versions, including "Accretions" and "Adjacencies" and "Permutations," and writing by Fred Camper on art, photography,and film, including articles on Claude Monet, Stan Brakhage, Robert Breer, Kenji Mizoguchi, Ernie Gehr, Andy Warhol, Orson Welles, Roberto Rossellini, Otto Preminger, Vincente Minnelli, Chuck Jones, Gerhard Richter, and other material on film and art.
Fred Camper: Art Bio Contact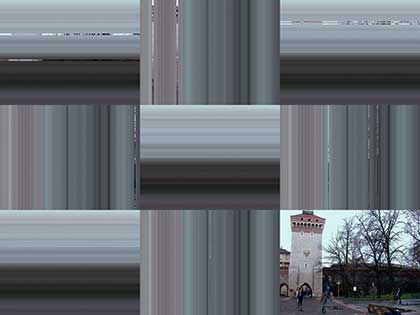 Current: I have 14 art works on view in my studio
building, the Bridgeport Art Center. Thirteen are very recent,
not yet on my site. The fourteenth is Quarry 10: Hollywood 11,
Enlargements 7.1 (2011). Every one is derived from the same
original image. To see them, visit Monday thrugh
Saturday, 8 AM to 6 PM or Sunday 8 AM to noon
(closed holidays). Enter the main office (see map at link).
Take the eleveator to the fourth floor front (punch 4,
not 4R).Turn left, then right; you'll see two of my works.
At the end of that corridor turn right for three more.
I have a course in Chicago, Cities in Cinema, and the
screenings and lectures are open to the public, and the
syllabus is also online.
The Sight & Sound Greatest Films Poll is
now up, including my list. I submitted my list in
order of preference, but they alphabetized all lists by title.
---
Other Resources
Writing and Lectures: Writing on Film; Writing on Art; Lecture-Screenings, Courses Taught.
Film Resources: Favorite Filmmakers, Filmmaker Links [Stan Brakhage (& Brakhage Stills); Brian Frye; Ernie Gehr; Warren Sonbert]
Other: About Me, Travel, Rants; Obits, Links

Last major update April 19, 2013.